If you are planning a trip to British Columbia in the coming months, why not stay in Victoria's Earle Clarke House?
While it is located just minutes away from the hustle and bustle of busy streets, it oversees a peaceful and picturesque residential neighborhood. Those who decide to spend their vacation at Earle Clarke House will be able to boast about staying in one of the most historic buildings in the entire city of Victoria.
Read on to learn more about the history and ambiance of the Earle Clarke House in Victoria BC!
Earle Clarke House History
Construction on Earle Clarke House began in 1911 and continued on until the following year. Once the house was completed, it was inhabited by Earle Clarke – surprise, surprise – and his wife, Ella. Clarke was a teacher by profession but was also an accomplished sculptor. In fact, Clarke so impressed the Victoria elites with his artistic prowess that in 1926 he received a scholarship to study in Rome. Though he accepted the scholarship, the home remained in his family's possession, as it would until 1954 after Clarke's death.
For the final decade of the 20th century, Earle Clark house was owned by William Oscar and June Dawn Hedemark. Oscar and Hedemark made a number of changes to the house, replacing old furniture with something more contemporary models. However, certain parts of the mansion remained practically untouched, including Earle Clarke's art studio.
After the occupancy of Oscar and Hedemark, Earle Clarke House fell into the hands of Joyce Kline and Peter Such, who made the bold move of turning it into a B&B. While some criticized the conversion of such as historic building into a bed and breakfast, others praised Kline and Such for opening its doors to the public. Their investment proved a wise move and Earle Clarke House, once the most enviable residential home in all of Victoria, is now one of the city's premier bed and breakfasts. Sleek and modern interior decorating blends perfectly with the quaint architecture chosen by the original occupants to give guests of Earl Clarke House the best of both worlds.
Why Choose Earle Clarke House?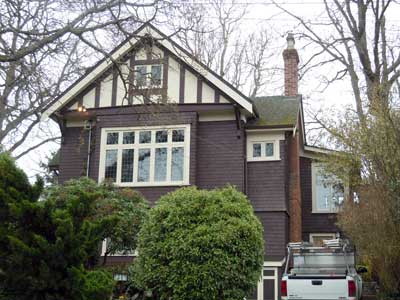 There are a number of reasons to spend your vacation in the historic Earle Clarke House, among them are:
Privacy:
Although Earle Clarke House is almost gargantuan in size, the B&B contains a total of just two guest rooms. This means you won't have to worry about the building being overcrowded or too noisy. Furthermore, each room is located on a separate floor of the house, ensuring you have absolute privacy. Couples looking for the perfect spot for a romantic and relaxing getaway will find the offer of perpetual alone time particularly alluring.
Hospitality:
When you book a room at Earle Clarke House, you're not just getting a place to sleep, you're getting unwavering hospitality from some of the most obliging staff in the world. The B&B really goes the extra mile to make sure your stay is as pleasant as possible, offering in-room facials, pedicures, and even couple's massages. Each room is fitted with a fireplace, a bath, and cable television. Foodies will rejoice in the bountiful breakfast, which Inn Traveler Magazine has voted the third best breakfast in all of Canada.
Prime Location:
At Earle Clarke House, you're never far from the action. The building is less than ten minutes removed from Downtown, Victoria, where you can shop to your heart's content. As well as boasting a vibrant shopping scene, Downtown is also a culture hub and offers some of the finest food, drink, and entertainment in all of British Columbia. When the night is done and you are ready for bed, you can return to the quiet neighborhood in which the B&B is located and enjoy a blissful night's sleep without fear of being interrupted by car horns, sirens, or unruly passersby.
If you want to familiarize yourself with Downtown, Victoria before your trip, you can get a comprehensive tour of the area at the link below:
Amenities:
The amenities at Earle Clarke House go above and beyond what you would expect to find at a B&B. In fact, the amenities are so copious and well-managed that they could rival the amenities of a five-star hotel. Some of the things those who stay at Earle Clarke House can look forward to are:
Telephone
Fax machine
Coffee Maker
Alarm Clock
Ice Maker
Ironing Board
Microwave
Complimentary Transportation